A banana connector is a single-wire (one conductor) electrical connector used for joining wires to equipment.
Often bare speaker wire connections are unreliable. Wires tend to get pulled out or frizzy as time passes, which can affect your sound quality.
If you have a stereo system and want to connect between your amplifier and your speakers, or if you like to tinker with electronics and do things yourself, it's worthwhile getting familiar with the banana plug. The banana plug gets its name from the shape of the spring in the plug—it's slightly curved, giving the appearance of a banana. They are remarkably easy to connect, and provide a safe connection for your speakers or other equipment. They also don't require soldering, and many times not even a screwdriver. But there are still a lot of shapes and sizes. Here is a guide to the best banana plugs on the market.
Sewell makes a variety of banana plugs—most other plugs will use one of the Sewell designs:
Strike Banana Plugs: These accept the wire only from the back.
Ocelot Banana Plugs: These are also called "open screw banana plugs", where you see the screw where the wire is attached. These allow you to insert the wire from the back of the banana plug, or from the side. The Monoprice 109437 Banana Plugs also use this design.
Deadbolt Banana Plugs: In this model, the jack part unscrews entirely. You insert the wire into the base, spread the wire strands over the banana plug, and then screw the jack part back on.
Pro Maestro: This consists of two parts of steel casing and one part copper connection.
Silverback: These have a silver-colored casing, where you attach the wire with two screws, for extra strength.
Diamondback: When you press the jack in, you reveal a hole through which you thread the wire. Then you pull the jack out, and the wire is locked in place.
RCA Deadbolt: This is similar to the Deadbolt model, but these employ a tiny screw that must be unscrewed before inserting the wire, and then screwed back in afterwards.

There are many benefits of using banana plugs with your speaker wire. Not only do they help your installation to look cleaner, banana plugs also give you a permanent and high quality connection. Often bare speaker wire connections are unreliable. Wires tend to get pulled out or frizzy as time passes, which can affect your sound quality. With banana plugs you ensure this won't ever happen. Another benefit comes when you are doing behind the wall installations and using wall plates (as opposed to just leaving a big hole in the wall). These wall plates will generally just have a jack for a banana plug. Banana plugs also will help the back of your speakers and receiver look nicer and reduce the messy look of all the wires.
Sewell Direct SW-29863-6 Deadbolt 6-Pairs Banana Plugs
5 new from $ 9.95
Free shipping
as of June 23, 2017 3:54 pm
Features
24k Gold Plating on Connector and Crimping Teeth
Fast Lock technology makes it easy for self crimping a reliable connection.
Heavy Duty Brass Casing for maximum durability
Wider base minimizes shorting for maximum signal transfer.
Ocelot Banana Plugs, 24k Gold Plated Connectors, Open Screw Type, 12 Pair
4 new from $ 17.95
1 used from $ 17.95
Free shipping
as of June 23, 2017 3:54 pm
Features
Banana plugs make installing speakers much easier.
These open faced banana plugs allow you to simply feed some of the bare copper conductor into the hole and clamp it down with the screw.
This serves as a splitter, allowing you to mirror the sound as many times as necessary.
Monster Cable QL GMT-H MKIII EFS QuickLock MKII Gold Banana Connectors for Easy Self Crimping Terminations
5 new from $ 19.99
12 used from $ 14.87
Free shipping
as of June 23, 2017 3:54 pm
Features
24k gold plated contacts resist corrosion for a lifetime of durability.
Nine separate 24k gold plated beryllium-copper leaf spring contacts for maximum signal transfer.
Special teeth and ring-lock for strong grip that stays tight for optimum signal transfer.
Two piece screw-on design for easy and reliable crimples and self crimping termination.
Wider base minimizes shorting for maximum signal transfer.
Mediabridge 16AWG ULTRA Series Speaker Cable with Dual Gold Plated Banana Tips (12 Feet) - CL2 Rated - High Strand Count Copper (OFC) Construction - Black [New and Improved Version] (Part# SWT-12B )
1 new from $ 19.99
Free shipping
as of June 23, 2017 3:54 pm
Features
Soldered banana plug terminations create a secure connection with your speaker's terminals and make this MediabridgeTM speaker cable the best long-term choice for your high quality speaker system. CL2 rated for in-wall applications. *Package includes 1 cable*
Dual conductor 16 AWG, with color coding to distinguish left from right to enable matching polarity. Brass/copper banana plugs for typical and custom installs alike.
Corrosion-resistant gold-plated connectors and oxygen-free stranded copper wire (high strand count) provide clarity, natural sonic accuracy and minimal signal distortion.
Maintain integrity even when bent, with a no-slip PVC Y-Boot and a durable, yet flexible PVC cable jacket. Pro-grade quality suitable for audiophiles, without the hassle of cutting and fiddling around with your own speaker wire.
Speaker Wire, speaker cable, banana plugs, 16AWG, 16 gauge, stereo, custom, high-end
Mediabridge Banana Plugs - Corrosion-Resistant 24K Gold-Plated Connectors - 12 Pair/24 Banana Plugs (Part# SPC-BP2-12 )
1 new from $ 24.99
Free shipping
as of June 23, 2017 3:54 pm
Features
Includes 12 pairs of banana plugs, which are meant for attaching to speaker wire and supplying a high-quality signal path from audio components like a speaker to an audio/video receiver, amplifier or other professional sound application.
Compatible with bare wire, spades, or other banana plugs, and work with 8-18 AWG speaker wire. Connectors & crimping teeth are coated in corrosion-resistant 24K gold-plating for lasting, for secure fits with clarity, natural sonic accuracy and no distortion. A wider base minimizes shorting for maximum signal transfer, and a 2-piece screw-on design makes for reliable termination/reuse.
Simply connect existing speaker wires to a banana plug through its bottom piece (step-by-step installation guide included). Self-crimping teeth make for easy one-time installs, and a low profile build only sticks out 1.
The heavy-duty plugs are color coded, distinguishing left from right to enable matching polarity. Fast-lock is a great plug-and-play alternative to using bare wire when connecting devices, taking away the hassle of crimping or soldering.
Each plug has a female banana plug connector on the bottom, allowing you to hook up speakers to a single output.
Monoprice 108247 5.1-Channel Home Theater Speaker System, Six
10 new from $ 99.39
2 used from $ 65.00
Free shipping
as of June 23, 2017 3:54 pm
Features
Includes four satellite, one center channel, and one subwoofer speakers
60-watt 8-Inch powered subwoofer
Rated for 125 watts of power at 8 ohms
Includes mounting brackets for the satellite speakers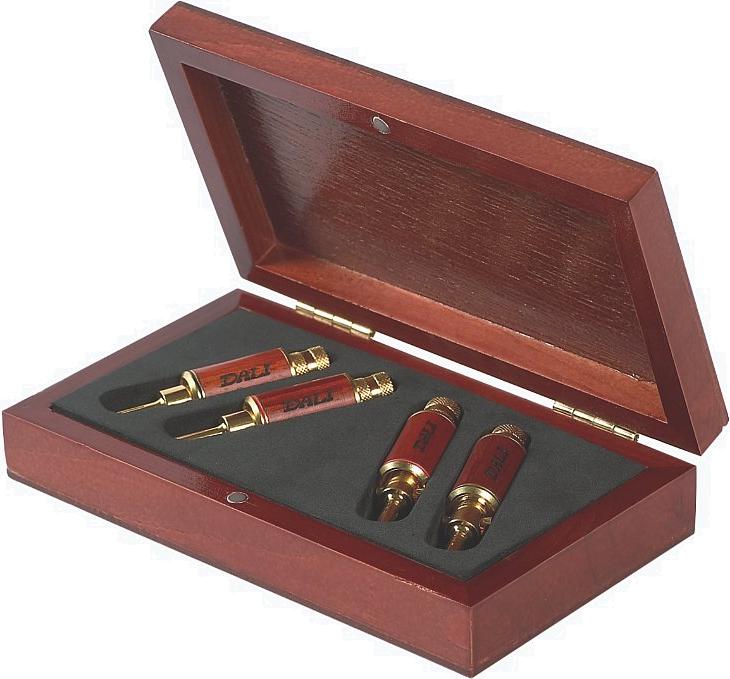 Paradigm PW Amp review: A great DTS Play-Fi amplifier for any ...
January 31, 2017 -
TechHive
This powerful amplifier with ARC room correction will fix your room's acoustic problems while streaming hi-res music....
Product Review Deadbolt Banana Plugs 12 pair By Sewell Direct
Just got these banana jacks in the mail and decided to show you guys this product and how easy it is to install. No soldering needed. They look great and hold ...
Deadbolt Banana plugs
Buy now at: https://goo.gl/btmZfD NOTE: We recommend stripping off about 1/2" from the jacket in order for the wire to be long enough to fold over the crimping ...
The Best Banana Plugs Ever: Silverbacks
If you are looking for the ultimate in banana plug technology, then stop looking, sit down, have a snack and take a look at our Silverback banana plug line.